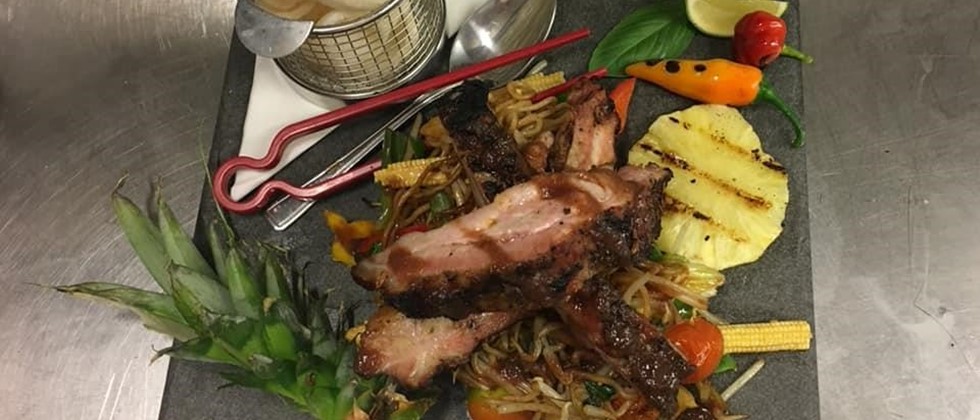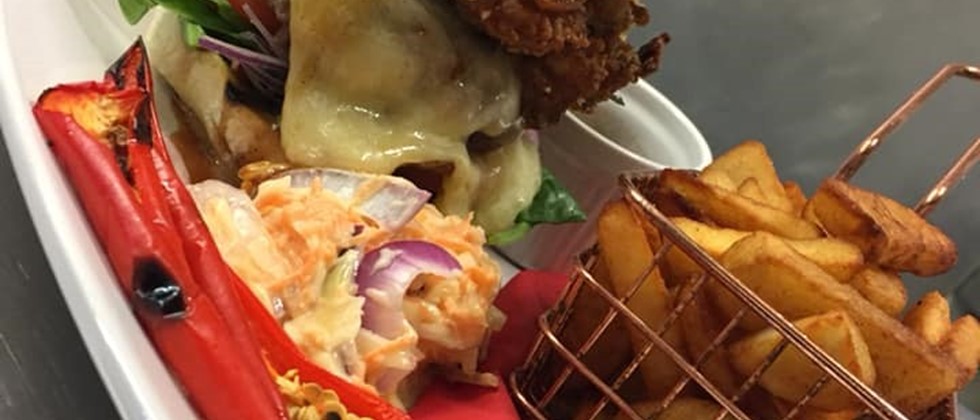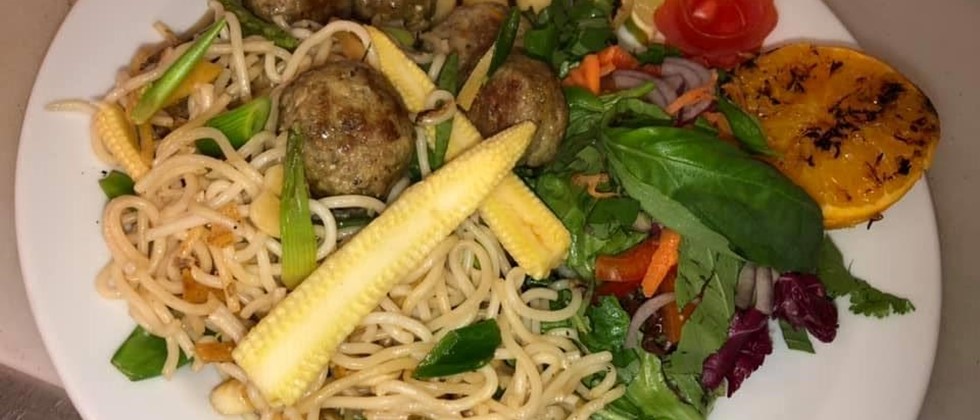 Food
Please inform a member of staff if you have a food allergy or intolerance before ordering your food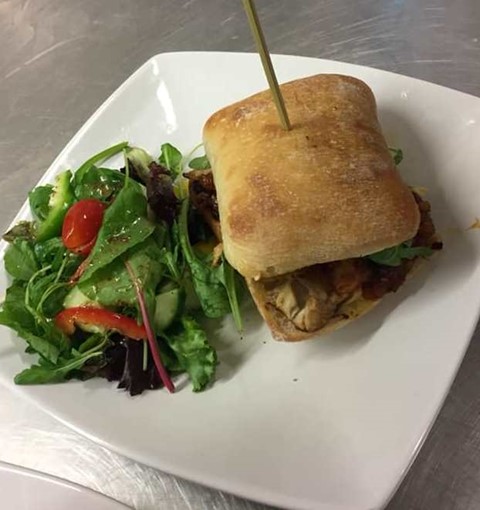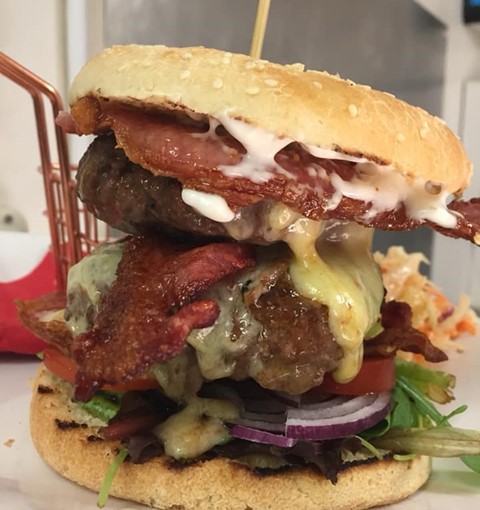 Starters
Mains
Puddings
Something Small
Mains
Starters
Mains
Desserts
Celeriac, Bramley Apple and Cider Soup
with Parmesan Croutons
Home cured Beetroot Gravlax on a Bed of Rocket
with Whiskey cream drop
Tricolore Goats Cheese
with Garlic and Olive Oil dressing
Ginger, Honey and Lime dressing Salad complimented
with Griddled Halloumi chunks
Traditional Christmas Turkey
Homemade Stuffing, Pigs in Blankets, Sautéed Sprouts and bacon, Goose fat potatoes and Seasonal Vegetables.
Bradenham Pork Loin
with Crackling, Homemade Stuffing, Armagnac and prune gravy
Braised Lamb
in a light Keralan coconut sauce, coconut rice, poppadums and homemade chutney
Citrus Baked Cod
with Asian Style Noodles and Chilli Jam Salad
Chick Pea and Feta, Moroccan Filo parcel
with Saffron and a light harissa yoghurt
Traditional Christmas Pudding
with Drambuie and Muscavado Sugar cream sauce
Baked Caramel and vanilla cheesecake
topped with pecan crunch
Toasted giant Marshmallows
with Chocolate and dark/spiced rum fondue
Mulled wine trifle
with double cream and crushed Amaretti biscuits
Strode soups – Homemade Minestrone or Tomato, Orange and Coriander
served with Homemade Bread
£5.00
Warm toast and Pâté
served with homemade chutney
£6.00
Crispy Cajun Halloumi Fries
with Sweet Chilli dip
£4.00
Chargrilled Garlic Bread
with homemade chilli jam
£4.00
Sweet Pepper Gratiné au four
£5.50
King Prawn Satay
£6.50
The Huntington Fidget Pie (Chicken, Bacon & Thatchers Cider)
served with Chips or Mash, Peas and Gravy
£12.00
Pie Of The Day
served with Chips or Mash, Peas and Gravy
£12.00
Beer battered Fish of the Day
Chips and Garden Peas
£11.50
Homecooked Ham
Chips and a Brace of Eggs
£11.00
Homemade Ratatouille Galette and Cream Cheese Sauce
served with Garlic Bread and Salad
£10.50
Homemade Beef, Stilton and Guinness Sausages
Colcannon Mash and Guinness Gravy
£11.50
Green Thai Curry
served with Noodles and Prawn Crackers. Add chicken or Prawns £13.00
£11.00
Beef Madras
Served with Rice or Chips, Poppadum's and Chutney
£12.00
The Strode Arms ¼ lb Burger
with Cheese and Bacon served with Chips
£10.00
Quatro Burger
4 x Patty, 4 x Bacon, 4 x Cheese, Homemade JD Sauce, 1lb of Fries and 4 x Onion Rings. NOT FOR THE FAINT HEARTED!
£20.00
Mexican Chicken burger
served with Chips and Chilli Mayo
£11.00
Strode Arms Chickpea, Garlic & Broadbean Burger
served with Cheesy chips
£9.50
Homemade Faggots
with Bacon, Mashed Potato and Garden Peas
£12.50
10oz Sirloin
with either Chips/Mash or New Potatoes served with Grilled Tomato, Buttered Mushrooms, Onions and Garden Peas. Add: Peppercorn, Dianne, Port & Stilton Sauce, Veg, Chips or Salad for £2.00
£23.00
Soup of the day
£5.00
Smoked Salmon and Cream Cheese Bruschetta
with Basil and Black Truffle oil
£5.50
Red Thai Prawn Curry
£6.00
Baked Sweet Pepper
with Goats Cheese and Sweet Chilli
£5.50
Sirloin of Beef & Yorkshire Pudding
Served with Roast Potatoes, Carrots, Broccoli, Cauliflower and Cheesy Leeks.
£13.00
Roast Lamb with Stuffing & Mint Sauce
Served with Roast Potatoes, Carrots, Broccoli, Cauliflower and Cheesy Leeks.
£13.00
Fish of the Day
with Chips and Garden Peas
£11.50
Homemade Chickpea, Broad Bean & Garlic burger
with Cheese, Salad and Chips
£9.00
Ratatouille Vegetable Galette
with Basil Cream Sauce, Garlic and Sage Roasted Potatoes
£12.50
Homemade Apple Pie
with Ice Cream or Cream
£5.50
Lemon Posset
with Strawberry Sauce
£5.50
Homemade Chocolate Brownie
with Double Cream and Ice Cream
£5.50
Homemade Sticky Toffee Pudding
with Toffee Sauce and Ice Cream
£5.50